Grisham Writers in Residence
John and Renée Grisham Writers in Residence are emerging writers selected on the strength of their writing and provided with lovely housing in walking distance of campus. They teach one class each semester and are provided ample writing time. They have no official duties but frequently become involved in our close-knit MFA community. There is no application for Grisham Writers in Residence; they are selected by internal nomination only.
We our incredibly delighted to announce the 2023 – 2024 Grisham Writer-in-Residence: Jake Skeets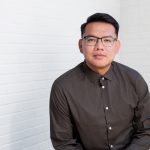 Jake Skeets (he/him) is Tsi'naajínii born for Tábąąhá; his maternal grandparents are the Táchii'nii and his paternal grandparents are the Tódík'ózhí. Skeets is Diné from Vanderwagen, New Mexico. He is the author of Eyes Bottle Dark with a Mouthful of Flowers, winner of the National Poetry Series, American Book Award, Kate Tufts Discovery Award, and Whiting Award. He holds an M.F.A. in poetry from the Institute of American Indian Arts. His honors include a 2020-2021 Mellon Projecting All Voices Fellowship and the 2023-2024 Grisham Writer in Residence at the University of Mississippi. He is an Assistant Professor and teaches at the University of Oklahoma.
Navigating the list below will take you to the bios, blogs, or bibliographies of present and past Grisham Writers in Residence:
Deesha Philyaw (2022-2023)
Raven Leilani (2021-2022)
Maurice Ruffin (2020-2021)
January Gill O'Neil (2019-2020)
Garth Greenwell (2018-2019)
Catherine Lacey (2017-2018)
Aimee Nezhukumatathil (2016-2017)
Kiese Laymon (2015-2016)
Mary Miller (2014-2015)
Megan Abbott (2013-2014)
Nic Brown (2012-2013)
Josh Weil (2011-2012)
Jesmyn Ward (2010-2011)
John Brandon (2009-2010)
James Kimbrell (2008-2009)
Jack Pendarvis (2007-2008)
LeAnne Howe (2006-2007)
Michael Knight (2005-2006)
Brad Watson (2004-2005)
Janisse Ray (2003-2004)
Shay Youngblood (2002-2003)
Tom Franklin (2001-2002)
Claude Wilkinson (2000-2001)
Steve Yarbrough (1999-2000)
Darcey Steinke (1998-1999)
Randall Kenan (1997-1998)
Tim Gautreaux (1996-1997)
Mary Hood (1995-1996)
Mark Richard (1994-1995)
T. R. Pearson (1993-1994)