News and Announcements
We excitedly welcome our INCOMING MFA CLASS OF 2021!
Fiction writers:
Alida Reyes, Jackson, MS
Christy Conner, Lafayette, LA
Di Bei, Boise, ID
Beatrice Beressi, London, UK
Vinh Hoang, Houston, TX
Poets:
Jacob Montalvo-Santiago, Flint, MI
Lenna Mendoza, Seattle, WA
Marina Greenfeld, Graham, NC
Here are some photos from our Holiday Party/Dirty Santa Present Swap!
Here are some photos from our August Welcome Party!
MFA students actively publishing!
Marty Cain's article in jacket2
Jason Harrington in Vanity Fair
Molly McCully Brown in The Rumpus
Graduate School Diversity Award
On behalf of the MFA program, Professor Beth Ann Fennelly is proud to accept the award from the Dean of the Graduate School.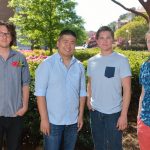 English Department honors creative writers with writing awards.